Short biography of  Abraham Fischer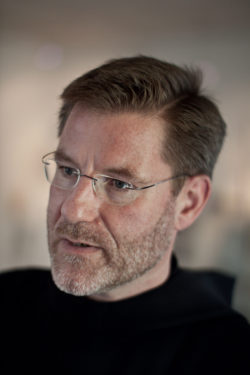 The belief that God calls people to himself and that this call manifests itself in an environment that is turned to God shapes the life of Father Abraham Fischer OSB. Looking back, it seems to Abraham Fischer that God has determined the course of his life so far. In 1966, he was born in Hildesheim and baptised "Michael". He grew up in a rural, Catholic environment and very early saw his faith as the natural basis of all life and activity. In 1985, he began his studies of Catholic theology in Frankfurt, continued in Munich and completed them with a diploma in Münster.
In 1988, he applied for admission to the novitiate at the Benedictine abbey of Königsmünster. A few years later he made his solemn monastic profession and was ordained a priest in 1994. In the same year, he began training as a metal designer. Today he has long since taken his master craftsman's examination and is head of the abbey forge. He describes the creative work at the forge as his heart's desire. Together with his colleagues at the workshop, Father Abraham explores the questions of an up-to-date religious emblem, the liturgical design of church interiors and an appropriate sepulchral culture.
Links